Our Vision
As students in the 15th Vision and Impact Program of Next Level Trainings (VIP 15), part of our transformational curriculum is to create a large-scale community service project for a local non-profit organization. Our team has chosen to support Gracehaven, and we are honored to create massive results for them over the next 24 days. The domestic child sex trafficking crisis is in our own backyard. In order to create a safe community where children are free to be children, we are supporting Gracehaven which provides a comprehensive, active approach to effectively meet the needs of everyone impacted by human trafficking. Together, we can eradicate domestic child sex trafficking.
Our Results
VIP 15 Columbus proudly supports Gracehaven
Ohio is in the top five states for the most human trafficking cases in the nation. Approximately 1,200 children in the state of Ohio are victims of domestic child sex trafficking each year, and over 3,000 children are at risk. We at Next Level Trainings are working passionately with Gracehaven to create a world where children can be children and are never subjected to the horrors of child sex trafficking again. The mission of Gracehaven is to stop the cycle of child sex trafficking by providing services such as survivor care and support, residential housing, prevention education, intervention trainings, and community collaboration. Gracehaven is creating a new life for children who have experienced unimaginable hardship. Your contribution will support us in creating empowerment, unity, and love with Gracehaven as we work to mitigate and end child sex trafficking in Ohio and beyond.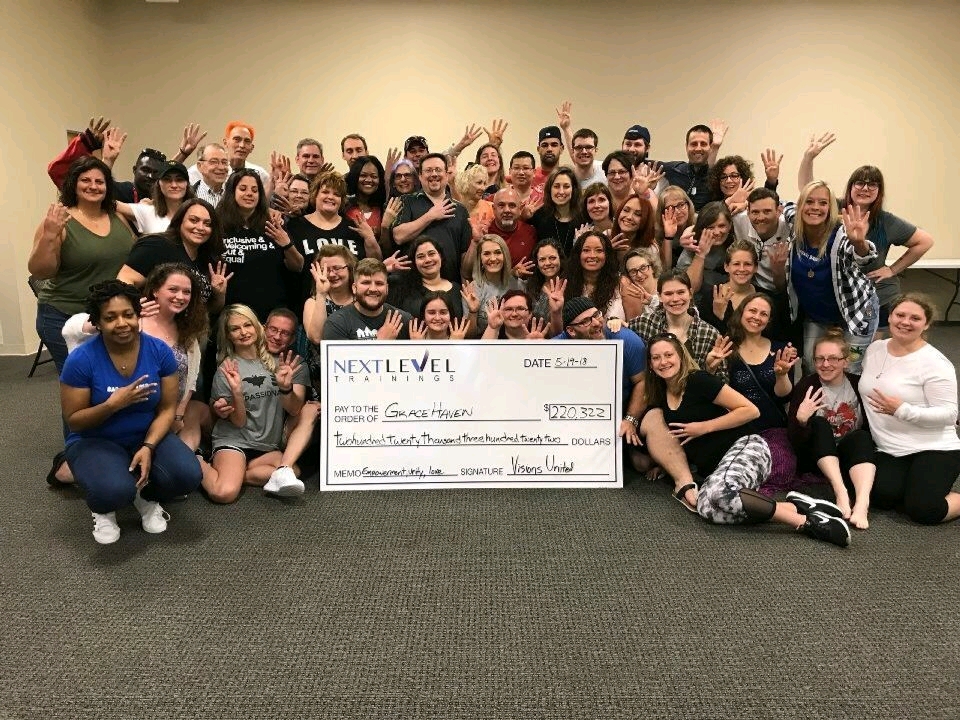 OUR TEAM LEADERS
Team Captains
Kristy Meyer
Chele Ruthemeyer
Traci McGuire
Fundraising Committee
Cindy McCain, Captain
Brian Metzbower, Captain
Accounting Committee
Schlaine Hutchins, Captain
Jon Wong, Captain
Social Media Subcommittee
Vanessa Loebsack, Captain
Dani Eiting, Captain
Graphic Design Subcommittee
Christina Jones, Captain
Liz Swartzel, Captain
Media (TV, Radio, etc.)
Justin Kershaw, Captain
Cassie D'Aula, Captain
Event Committee
Marcie Linder, Captain
Chet Ridenour, Captain
Communications Committee
Abigail Lambert, Captain
Ashley Woodard, Captain
Tangible Goods Committee
Shalonda Mason, Captain
Tom Petrie, Captain
Improvements Committee
Brock Miller, Captain
Derek Damron, Captain
Benchmarking
Mike Lee, Captain
Blanket Committee
Stacy Smith, Captain
Chelsea Rasmussen, Captain
Legacy Art Piece
Corey Rasmussen, Captain
Bridget Morford, Captain
Inspirational Lead
Kate Belzer, Captain
Photo/Video Committee
Renee Michael, Captain
Crystal Flynn, Captain
OUR TEAM MEMBERS
Amy Moberger
Athena Inembolidis
Dana Butler
Debbie Marks
DJ Sullivan
Evan Michael
Frank Reed
Jamey Waechter
Jaryee Tarpeh
Joellen VanHouten Whatman
Josie Kropf
Karen Tulga
Kean Dillon
Kelly Fernandez
Lisa D'Amico
Margaret Shanley
Marla Kerr
Melanie Abendshien
Michele Hager
Ron Rummel
Sandy Costello
Tim Quinn
Tina Cline
Valarie Whitman
Thank you to our Business Sponsors and Donors